Saturday march 19th in Mexico, premiere of 'Una Familia Espacial'
'Una Familia Espacial' gets ready for its premiere next saturday march 19th in Mexico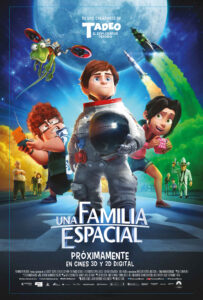 The Goldwing family is ready for its premiere in Mexico next saturday march 19th;the film promises quality animation and fun for children and grown-ups, a perfect way to go to the movies.
The premiere will take place at 10am in the cinemas:  Cinemex Antara, Cinemex Polanco II (Cinemark Polanco), Cinemex WTC, Cinépolis Diana, Cinepolis La Cuspide, Cinepolis Patio Universidad, Cinépolis Perisur.
'Una Familia Espacial', known in english as 'Capture the Flag' counts with our production stamp and has travel around UK, Israel and Argentina thanks to Paramount Pictures international bet, which includes a 24 countries tour in its distribution plan.
Sinopsis:
Mike Goldwing stows away on a rocket bound for the moon to fulfill his grandfather's lost dream of being an astronaut; meanwhile, a Texas billionaire is also racing to the moon to destroy the Apollo XI flag and rewrite history in his favor.
Release date: 2015 (Spain)
Genre: Animation
Time: 96 m.
Country: Spain
Director: Enrique Gato
Screenwriters: Jordi Gasull, Javier Barreira, Neil Landau
Music: Diego Navarro
Production Company: Telecinco Cinema, S.A , Ikiru Fims, S.L., Telefónica Studios, S.L.U., 4 Cats Pictures,, S.A., Los Rockets la Película, A.I.E., Lightbox Academy, S.L..
The actors Dani Rovira, Michelle Jenner, Carme Calvell, and Javier Balas are the voices of the main characters.  Auryn plays the song, 'Te voy a esperar' ('I'll Reach You').