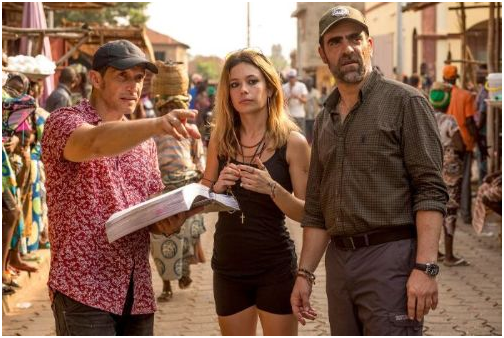 Salvador Calvo addresses the drama of immigration in Un Mundo Prohibido
The film, whose filming takes place over seven weeks in locations in the Republic of Benin and Spain, reflects the reality of two worlds separated by a fence
Luis Tosar, Anna Castillo, Álvaro Cervantes and Jesús Carroza lead the cast with two debutantes selected from thousands of children in the African country
Luis Tosar, Anna Castillo, Álvaro Cervantes and Jesús Carroza lead the cast of UN MUNDO PROHIBIDO, provisional title of Salvador Calvo's new feature film ('1898: Los últimos de Filipinas') in which he addresses the drama of immigration reflecting the reality of two worlds separated by a fence.

The film, whose filming started on February 9 and will run for seven weeks in different locations in the Republic of Benin, Madrid and Murcia, is produced by Telecinco Cinema, Ikiru Films, La Terraza Films and A Forbidden World AIE, with the collaboration of Mediaset Spain and the financing of the ICAA. The film will be released in Spain distributed by Paramount Pictures Spain.

Leading the casting of Un Mundo Prohibido are Eva Leira, Yolanda Serrano and Cendrine Lapuyade, who spent four months in Benin until they met the little Moustapha Oumarou and ZayiddiyaDisssou, chosen from thousands of anonymous children in the African country.

The film, which addresses the issue of immigration from three interwoven stories that show different points of view, is for Salvador Calvo "an ambitious and difficult project, but on the other hand irresistible. The idea and the characters emerged in the filming of '1898: The Last of the Philippines' in the Canary Islands. There I got in touch with the people of CEAR and I met two children who served to inspire two of the protagonists of our film. There are 258 million emigrants in the world. Some 6,100 die each year trying to reach a better world. A world that is forbidden. With this film I intend to bring the public some of these stories to put face, flesh and name this drama".

"To all this we must add an old dream to shoot in Africa. A continent that I admire and in which I periodically take refuge, because there I find life in a pure state, beauty, wild nature and a certain innocence already forgotten in the West long ago. A living continent that never ceases to amaze you and where children are the future. Children as our protagonists, "he adds.

 Synopsis
In a desperate attempt to reach Europe and crouching before an airstrip in Cameroon, a six-year-old boy and his older sister wait to sneak into the holds of an airplane. Not too far away, an environmental activist contemplates the terrible image of an elephant, dead and without fangs. Not only does he have to fight against poaching, but he will also have to rediscover the problems of his daughter recently arrived from Spain. Thousands of kilometers to the north, in Melilla, a group of civil guards is preparing to face the furious crowd of sub-Saharan Africans who have started the assault on the fence. Three stories united by a central theme, in which none of its protagonists knows that their destinies are condemned to cross paths and that their lives will no longer be the same.