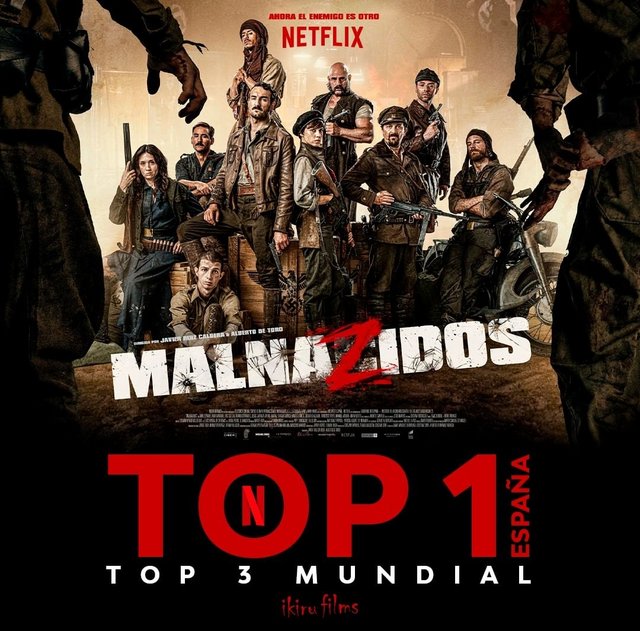 "MALNAZIDOS" #1 ON NETFLIX SPAIN AND #3 WORLDWIDE
Source: http://www.elblogdecineespanol.com/
Its theatrical release was greatly delayed due to the pandemic and when it hit the billboard it did not get the result it expected. We are talking about the Spanish film "Malnazidos", a co-production of Telecinco Cinema and Ikiru Films, which has grossed only one million euros in commercial theaters, but which seems to have found its audience on Netflix, where it is No. 1 since it was released in the red platform less than a week ago. In addition, it is also being a worldwide success, ranking as the third most watched movie internationally on Netflix.
With a script by Jaime Marques Olarreaga, Alberto Fernández Arregui and Cristian Conti based on the novel Noche de Difuntos del 38, by Manuel Martín Ferreras, the film has an ensemble cast led by Miki Esparbé, Aura Garrido, Luis Callejo, Álvaro Cervantes, Jesús Carroza, María Botto and the young Manel Llunell, who complete Mouad Ghazouan, Dafnis Balduz and Sergio Torrico.
What is it about?
Months of bloody fighting have left behind thousands of dead in the trenches. Jan Lozano, captain of the fifth brigade, is taken prisoner. The only chance to escape the death sentence is to face an impossible mission in the enemy camp. But a danger greater than expected will force the rival sides to unite against a new and unknown adversary. They will have to put aside their mutual hatred and thus avoid becoming zombies.
The trailer: