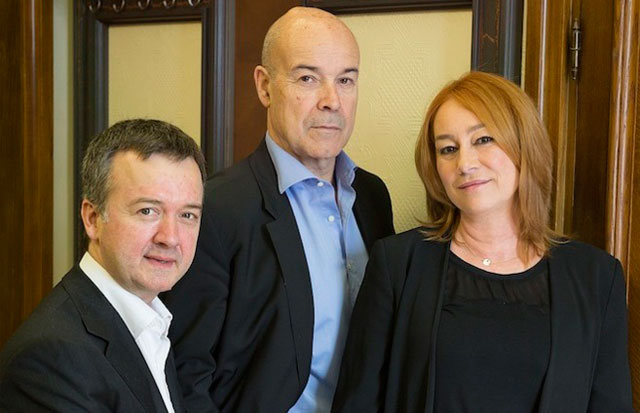 The newly released Triad Academy has Edmon Roch, founder of Ikiru Films
Actor Antonio Resines has been ratified Saturday as president of the Academy of Motion Picture Arts and Sciences of Spain, by the filmmaker Gracia Querejeta and producer Edmon Roch as first and second vice president, respectively.
Resines was the only candidate for the presidency, which assumed duties following the resignation last February the then president of the institution, Enrique Gonzalez Macho.
At a press conference he has highlighted the objective of the Academy of Motion the need to "improve relations" between the institution and the government, something "fundamental" because in the film industry "creates employment".
Also, the new president of the Film Academy said that after his meeting in April with the Prime Minister, Mariano Rajoy, "If you see a good change in the government's attitude" about the film industry, a fact not related "necessarily" with election campaigns at the next elections.
In this regard, he considered "fundamental" this new positive attitude of the Government to the film industry that "until recently represented a 4% of GDP," he said.
Following the "program of the previous bid," Resines has specified that out is going to bring new projects and goals, such as creating an archive of all the Spanish cinema and the creation of a Foundation of the Academy of Cinema, to achieve greater tax benefits and promote social and labor assistance to filmmakers.
"The Academy currently has a budget stability and taking advantage of that situation will try to influence the extent possible throughout the productive sector of Spanish cinema," said Resines.
She also pointed out that cultural ask lowering VAT issue has dismissed as "nonsense" and tighten the Copyright Act to "stop piracy" and get them to penalize the final consumer.
Resines Spain explained that last year there were 4,000 million illegal downloads, the equivalent of 23,000 million euros.
Resines has stated that they will claim that culture, in general, "is a state matter and not rely on unilateral decisions of the current government".
The vice-director Gracia Querejeta and producer Edmon Roch, have said that this position was faced with "spirit, enthusiasm and sense of responsibility".
Roch stressed that the Academy has "very important work to do" in the film industry as "achieve recognition of professionals working in the Spanish cinema through knowledge of these".
The ratification has been done freehand, it took place after a day of election commissions and Specialty Board, which candidates have been able to attend all Members of Honor that have specialty and fellows who are to aware of their social obligations, however, have been excluded from the vote that were already part of the Board for their specialty.