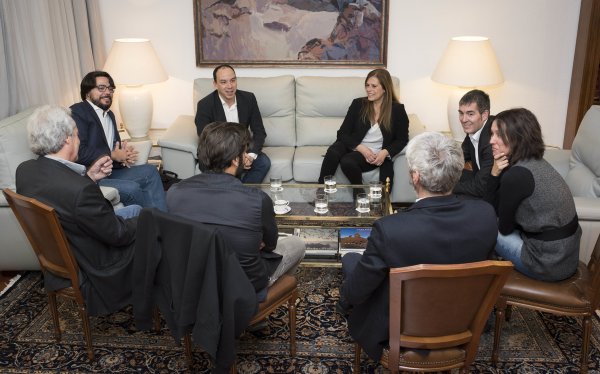 Capture the Flag's team meets the President of Canary Islands' government
Clavijo welcomed the canary's team of 'Capture the Flag' taking them as an example of people who work hard  and train every day to have their own place in the film industry 
The President of Canary Islands' government Fernando Clavijo, welcomed last friday in the Canary's government delegation in Madrid, the canary members of Capture the Flag's team, recently nominated to the Goya Awards.
Our teammates Marcos Martín, representative of Lightbox Entertaiment in Canary Islands,  and Nicolás Matji, producer of the company were part of the meeting.
Clavijo remarked that Canary Island Government bets on the talent of the industry and that's why "we wanted to celebrate with this meeting the success achieved by the canaries in the last edition of the Goya Awards"
In addition, he point out that they are "an example to those who work hard and train to have their own place in the artistic world".
He assured that the Government of Canary Islands will assign the amount of one thousand euros, trough the plan supported from IGTE funds, for the financing of film productions and to promote Canary Islands as a location for national and international film shootings.
Other Goya winners have joined the meeting such as Marta Miró and Andrés Santana (Direction for 'Nadie quiere la noche'), Paco Rodríguez (Make up and Hairstyle for 'Nadie quiere la noche') and Alex García (nominated as best New Actor for 'La novia')
Vía rtvc