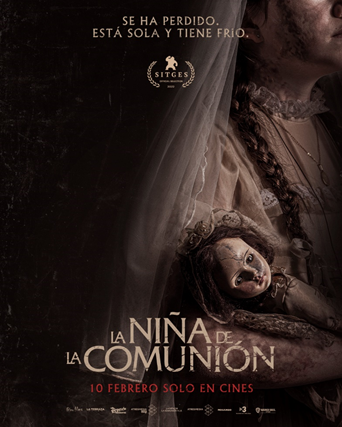 LA NIÑA DE LA COMUNIÓN TO BE PRESENTED AT THE SITGES INTERNATIONAL FESTIVAL
The film LA NIÑA DE LA COMUNIÓN directed by Victor García (Gallows Hill, Return to House on Haunted Hill, Mirrors 2, Hellraiser: Revelations) will be presented tomorrow, Friday, October 14, at the Sitges International Fantastic Film Festival in the Official Selection out of competition. It was already present at the Festival last year where the first images were shown.
LA NIÑA DE LA COMUNIÓN is an original idea by Víctor Garcia and Beto Marini, screenwriter of projects like La unidad, Mientras duermes, El desconocido or Historias para no dormir, among others.  The film's script is written by playwright and screenwriter Guillem Clua (Los renglones torcidos de Dios, El inocente), winner of the National Award for Dramatic Literature in 2020.
Víctor Garcia, who has forged the bulk of his career in the USA, returns to the Sitges Film Festival a decade after presenting Gallows Hill.
In Victor's words: "I've missed few editions of the Sitges Festival since I was a teenager. This is the festival that made me want to dedicate myself to the world of cinema and where I premiered my first short film almost 20 years ago, so it's impossible for me to define in one word what it means to me to return one more year to the Festival to present my new film".
The film stars Carla Campra (Verónica, Todos los saben, Sagrada Familia), Marc Soler (Todos mienten, UPA Next), Aina Quiñones (No matarás, Cuéntame) and Carlos Oviedo (Las leyes de la frontera). The cast is completed by Claudia Riera, Maria Molins, Xavi Lite, Anna Alarcón, Víctor Solé, Mercè Llorens, Daniel Rived, Manel Barceló, Jacob Torres, Olimpia Roch, Sara Roch and Helena Gómez, among others.
Behind the project are the producers Ikiru Films, La Terraza Films, La Niña de la Comunión AIE and Atresmedia Cine.
SYNOPSIS:
May, 1987. The bells of a small inland town are ringing for a festival. The church is ready to celebrate a first communion mass; among the children is Judith, Sara's little sister.
After Judith's communion, Sara and her friend Rebe go out for a night of partying and, being late, have to return by hitchhiking. During the trip, the driver of the car intimidates them with bad jokes until someone (or "something") crosses the road.
They get out of the car to investigate and only find… an old communion doll in the middle of the dark forest.
This is how the story of Sara, the doll and the disappearance of a little girl on the day of her communion begins.
"THE COMMUNION GIRL", will be released in Spain on February 10, 2023 only in theaters.