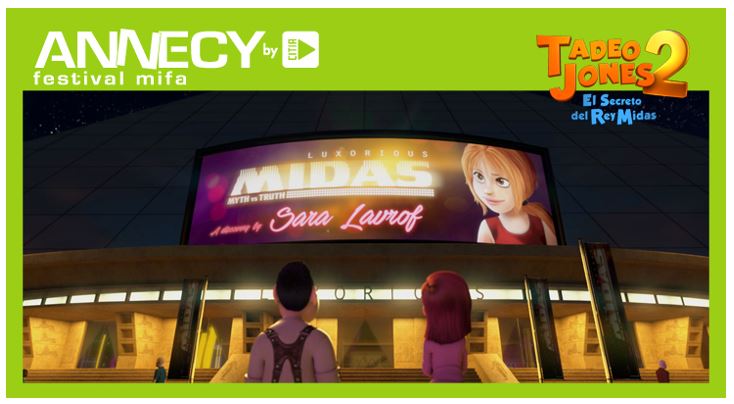 Tadeo Jones 2. The secret of King Midas will have its world premiere at the International Animated Film Festival Annecy
There is already a date, place and time for the world premiere of Tadeo Jones 2. The secret of King Midas. It will be produced at the 41st edition of the Annecy International Animated Film Festival, the most important of its kind in the world, which this year has received 2,850 works from 95 countries.
The first projection of the expected sequel of our peculiar adventurer will take place on June 13 at 6pm, followed by two more passes on June 14 and 17. The directors of the film, Enrique Gato and David Alonso, and one of its producers, Nico Matji (Lightbox Animation Studios), will attend the festival to accompany Tadeo Jones 2 in their first appearance in society.
After its participation in this Annecy 2017, Tadeo Jones 2. The secret of King Midas will have its premiere in cinemas the 25 of August.
SYNOPSIS
Tadeo Jones travels to Las Vegas to attend the presentation of the latest discovery by the archaeologist Sara Lavroff: the papyrus that shows the existence of the necklace of Midas, the mythical King who turned everything he touched into gold. But the happy reunion will be clouded when an evil rich kidnaps Sara to find the talisman and get infinite riches. Along with his friends the parrot Belzoni and his dog Jeff, Tadeo will have to use his wits to rescue Sara, in a trip around the world, where you will find new friends … and new villains!