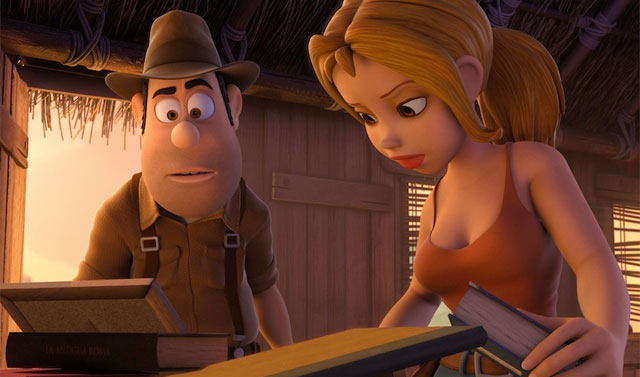 The second part of Tadeo Jones arrive in 2016
The producer Edmon Roch, head of one of the companies behind The Adventures of Tadeo Jones, Ikiru Films, told La Opinión de Tenerife, after the good experience of shooting in Gran Canaria El Nino, who also produced, is They have decided to bet on the islands for more ambitious projects through tax incentives enjoyed by the autonomous region. So 4Cats be the new company formed by Roch, Enrique, director Cat Catch Tadeo Jones saga and the flagship issue and two independent producers Tadeo, to be installed in Tenerife to give life to these films.
"We've had many offers to relocate production of Spain and bring it to Asia, Pakistan and India," says Roch, in the end opted for the Canary Islands. "We believe there is enormous potential here, not only for logistics professionals and locations, allowing filming to be a treat, but because there is a great tradition of animation especially in Tenerife, so do not start from scratch," analyzes professional, whose team is already in talks with the render farm and the supercomputer that is in the island.
"In addition, we were fortunate to create a wonderful Spanish team led by Enrique Gato" he says. "We will mount a production from Tenerife, where we have the advantage of which is 2 hours 45 minutes flight and the people of Madrid can come here and vice versa, so there may be a day like neighbor next without losing production from Madrid, "he says.
It is the first time an animated film benefits from the fiscal situation of the islands , which was not easy to prove it could be done at the legal level . This task has helped Mario Gonzalez, attorney Icod , which advises 4Cats . "We are proud to be making your movies come here and count on our professionals ," said Gonzalez.
The decision of these producers will generate many jobs in a sector that only has outlets on the island. "We put an ad to recruit technicians and we received hundreds of resumes perfectly qualified people to do the jobs that we needed and it was a pleasure " Roch , who ruled not have to provide training explains. "It was a very pleasant surprise to see people join our us as a team, not an afterthought," he says.
Roch explains that animated films take four years "since the start with a blank screen until the finish."
On the 45th anniversary of the first man on the Moon, Catch flag starts a new mission: to rescue the astronauts left flag in 1969 in the satellite. This nearly finished film will be released in late August 2015. "We are fortunate to have interested Paramount Pictures to ensure the worldwide distribution of the two films, which is unprecedented and that had not happened at such a late stage in any Spanish cinema project "determines the producer who also recounts with Telefónica and Telecinco Cinema Studios. Americans in them for the success of Tadeo in Spain -the highest grossing 2012-, China and South Korea.
The Adventures of Tadeo Jones 2 is in preproduction. "Fans say it will be ready for Christmas 2016 and that the wait will be worth it," says Roch, sure beat the first part