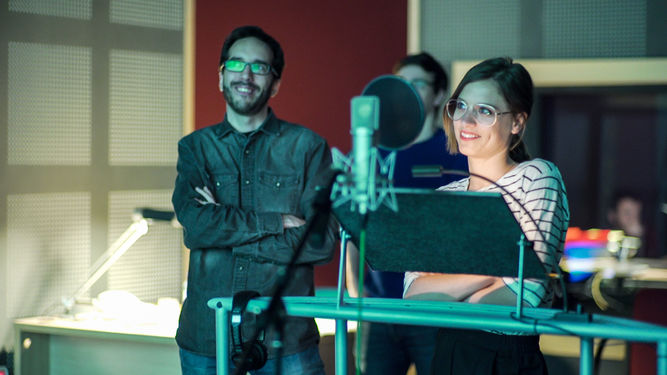 Michelle Jenner, Adriana Ugarte and José Corbacho among the actors voices of ' Tadeo Jones 2. The secret of King Midas'
Tadeo Jones would not be what it is without its screenwriters, producers, directors, animators… and so to a long list of departments. And within the hundreds of professionals who integrate them into their huge gear, Tadeo would not be what it is without the team of voices that interpret their different characters. Among those participating in this second installment of the series, the secret of King Midas, we have a few reunions, any new addition and, of course, several surprises.
Michelle Jenner returns to embody the energetic and determined Sarah, Adriana Ugarte lends his voice to the complex and new arrival Tiffany and José Corbacho reinvents itself with respect to its intervention in the first film playing a taxi driver from the more… curious. Our great Tadeo Jones continues, of course, in the hands and vocal Oscar Barberan, who accompanied again by Luis Posada, who has been forced to redouble efforts due to the role of a mummy that not silent.
Michelle has been "a great illusion back to meet with Sara after all this time." Technically and artistically Tadeo Jones has evolved a lot, and the story is also much deeper. On the other hand and luckily, a time every time the female characters are stronger, are more warriors and think it is something very important." Adriana Meanwhile highlights the experience as "quite a surprise. I had the feeling that I was going to have a good time, but it has been unforgettable. I had a crush on incredible with Tiffany". Corbacho also has spent big and sums it up perfectly: "give voice to the cartoon is very funny, it allows us to play".
Tadeo Jones 2. The secret of King Midas and all their voices will arrive in the Spanish cinemas on 25 August.
SYNOPSIS
Tadeo Jones travels to Las Vegas to attend the presentation of the latest discovery of the archaeologist Sara Lavroff: Papyrus showing the existence of the Collar of Midas, the mythical King who turned into gold everything that played. But the happy reunion will be clouded when an evil millionaire kidnap Sarah to find the talisman and get infinite riches. Along with his friends Parrot Belzoni and his dog Jeff, Tadeo will have to make use of his ingenuity to rescue Sara, on a trip around the world, where you will find new friends… and new villains!